Sustainability at Venjakob
Commitment to climate and environment
Sustainability is the proverbial programme at Venjakob: the awareness for resource and environmentally friendly processes has matured in our company over decades and the processing of renewable raw materials has decisively shaped our understanding of ecological interrelationships. For this reason, we are working long-term and holistically to improve our climate and environmental balance. We pursue this path consistently. As a sustainable company, we bring economy and ecology together.
Whether timeless design, durable materials, environmentally friendly use of resources or climate-neutral furniture production: our responsibility towards future generations is a clear compass for us.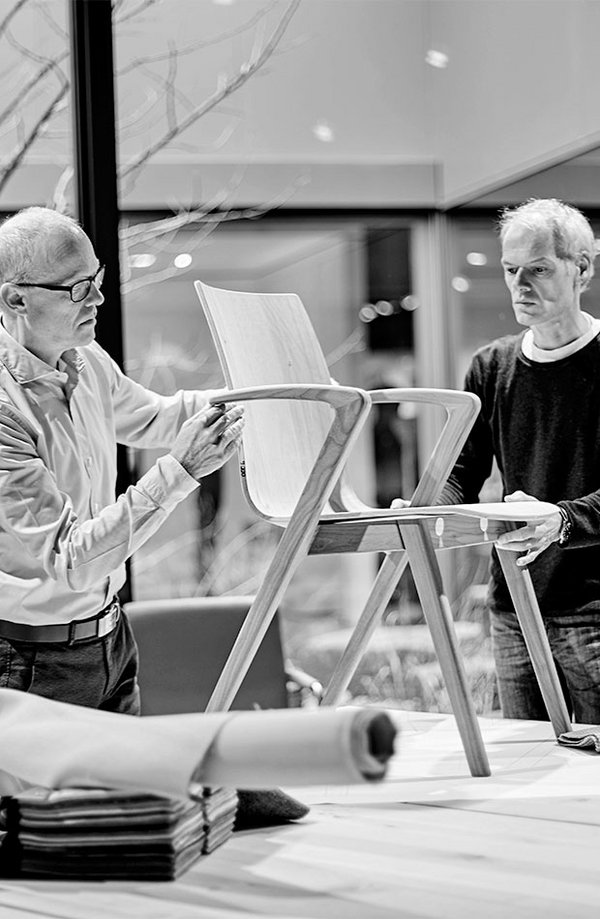 Design and Function –
Durable, high-quality, timeless beauty
We at Venjakob are absolutely convinced that true sustainability begins with the design. We therefore strive for a timeless design that is well-thought through from start to finish and that creates highlights with refined details.
The result is unique furniture made of sustainable materials.
Chairs, tables, living room and dining room furniture which quickly become a part of the family and which remain as beautiful after many years as they were on day one. High quality, made for generations.
Climate footprint –
Venjakob is climate-neutral
Venjakob has its carbon footprint calculated and balances any emissions through the procurement of carbon offset certificates. These offset certificates support international climate protection efforts, such as reforestation projects. Procuring these carbon offset certificates ensures that Venjakob is climate-neutral. This means that Venjakob is one of the first companies in the furniture industry to voluntarily offset its emissions fully in accordance with the "Clean Development Mechanism". By taking this step, we are supporting the Alliance for Climate and Development of the German Federal Ministry for Economic Cooperation and Development, and also meet the climate protection guidelines of the German Association for Quality Furniture (Deutsche Gütegemeinschaft Möbel e.V).
Wood – A renewable raw material
Venjakob avoids using exotic woods and procures its wood from hand-picked suppliers, only selecting choice wood that is imperative for our high-quality furniture. In addition to this, we pride ourselves on our manufacturing depth: We perform all of the decisive processes involved in wood processing consistently in our production facility in Gütersloh, thus ensuring our quality furniture is "Made in Germany".
Natural finishes –
Innovative processes
Venjakob mainly supplies its customers with naturally finished furniture. The environmentally-friendly treatment of the finishes using oils and lacquers protect the wood, ensuring that it remains beautiful for many years. All of our treatment processes are designed to be as sustainable as possible, and any emissions are captured via an innovative system. These are then destroyed in a natural process by bacterium cultures - a so-called biological filter.
Tree planting and bee meadows –
A commitment to bio-diversity
Arminia Bielefeld, a German Bundesliga team established in 1905, supports the tree-planting action "Your tree for the Teutoburg Forest".
Venjakob contributes 1905 saplings that are targeted towards helping to reforest our local deciduous forest. Furthermore, a bee meadow has been created on the Venjakob premises. This meadow includes plants such as lupine, clover, borage and sunflowers. This pollen-rich diversity of plants provides both protection and nutrition. A nature-imitating rainwater retention lake has also been established on site. This lake relieves the sewage system and protects the water table. The planted embankments are used as a safe haven by rare birds – for example herons, kingfishers, Canada geese and moorhens.
Heating and waste heat –
Intelligent solutions
Where wood is chopped, chips will fall. However, we make good use of our sawdust and wood chips: Our administration building and the Venjakob product hall are heated using wood chips created during the furniture production process.
The sawdust and chips are pressed into pellets and fired in a state-of-the-art biomass boiler that satisfies the latest efficiency and environmental standards, as well as those of the future. Energy-efficient radiators situated in the production hall are operated using the heat generated from this. Because wood is not a fossil fuel, our heating system is carbon-neutral.
But that is not all: in the production process we use the waste heat generated by highly efficient compressed air compressors to dry lacquered surfaces, saving even more resources.
Power generation and light –
Renewable energies
Venjakob uses photovoltaic systems to generate roughly a third of the electricity that it consumes. In addition, the entire company is equipped with energy-saving LED lighting systems that automatically detect natural light and adjust the intensity of light emitted to the requirements of the individual working areas. Furthermore, our production systems and compressed-air compressors are equipped with energy management systems to reduce the consumption of electricity and the load on the electricity grid. In parallel to this, frequency regulators on our suction systems ensure ideal performance at a significantly improved energy efficiency level.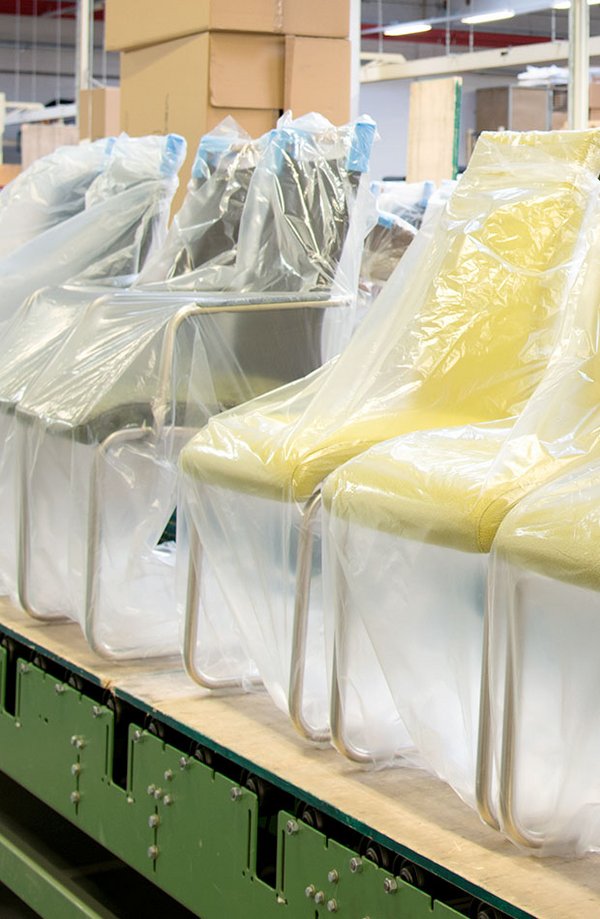 Packaging –
Environmentally sound recycling
Venjakob uses high-quality packaging to ensure that their beautiful furniture arrives safely. Upon delivery, the materials such as cardboard boxes and plastic foil are brought back, sorted, and sent to a certified recycling company. The same applies to recyclable materials that are generated by Venjakob production. Venjakob cooperates with the environment service provider Interseroh to ensure clean processes and professional recycling.
Furniture logistics –
Efficiency from A to B
Venjakob invests continuously in modernisation and maintaining the company-owned vehicle fleet. Eco-Driver training programmes to ensure an energy-efficient driving style as well as optimised driving routes for furniture and material logistics help us and our suppliers to consistently reduce fuel consumption. Furthermore, we are proactively changing all company cars over to hybrid technology.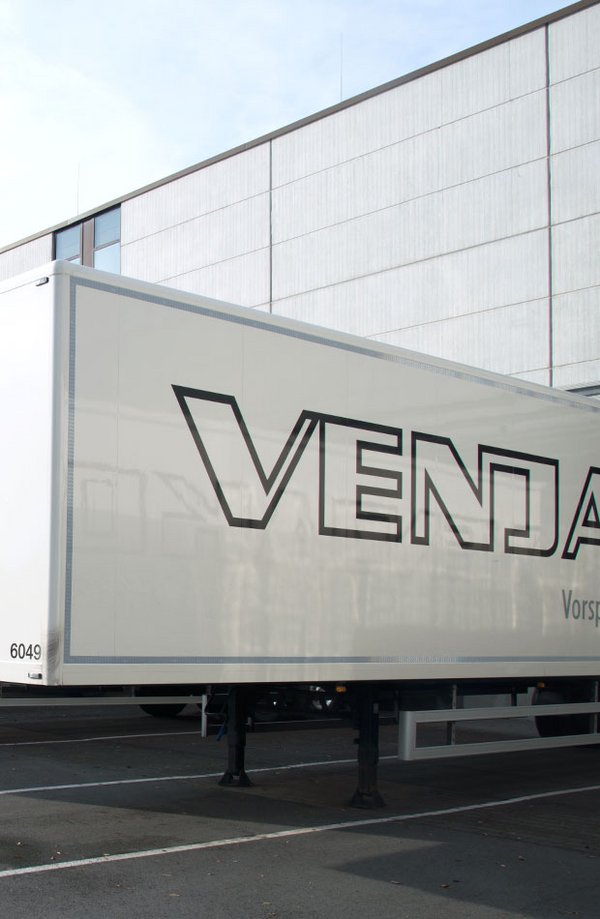 Show cookie popup